I'm a bit behind describing the places I visited in Bulgaria (still have a bunch of pictures to publish) but today I already arrived in Turkey, am staying in Edirne tonight.
I had changed my mind once again on how to get there from the the Bulgarian black sea coast and went with the route via Карнобат and Елхово (Karnobat and Elhovo). While Карнобат was uneventful the next day started with a big bang when I cycled near a place where there they were blowing up stuff (mining I guess…). That was one impressive bang, I've never heard anything like that.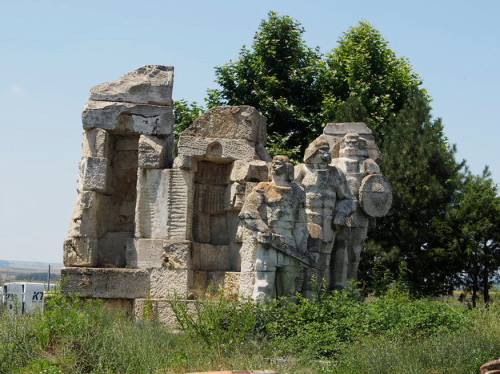 One of the numerous statues along the way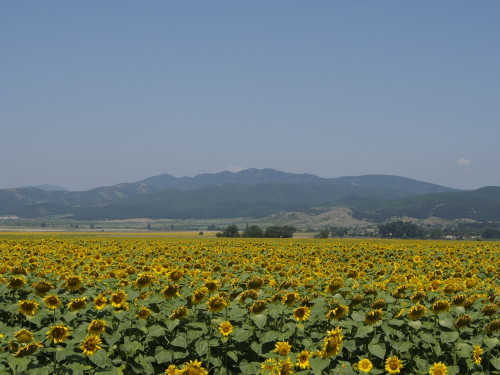 There are huge sunflower fields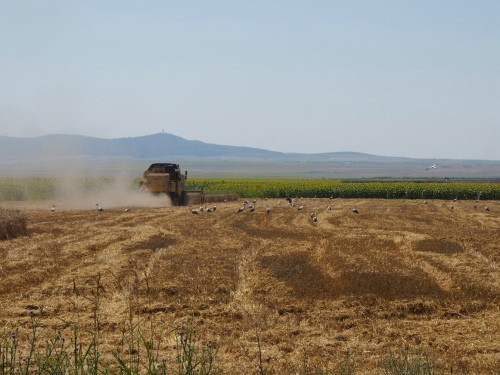 I've seen lots of storks on this trip but never as many as on this day. Those on this picture are maybe half of the ones that were on this single field. And there were a few more groups of several dozen storks in the area.
Arriving in Елхово all the hotels were full. I met Gerald from Britain who was been living in Bulgaria for some years and speaks the language but even visiting every single hotel in town with his help we did not find a single available room. There are numerous policemen in the area, apparently to stop Syrian refugees at the border and they occupy all the hotels in the area. So Gerald and I did the only reasonable thing and sat down for a beer and a nice chat about cycling tours. After that I left town looking for a nice place to pitch my tent along the Tundzha river.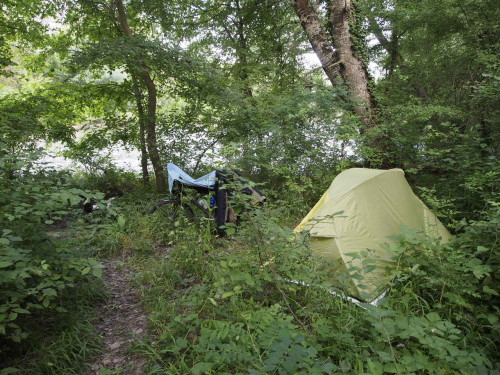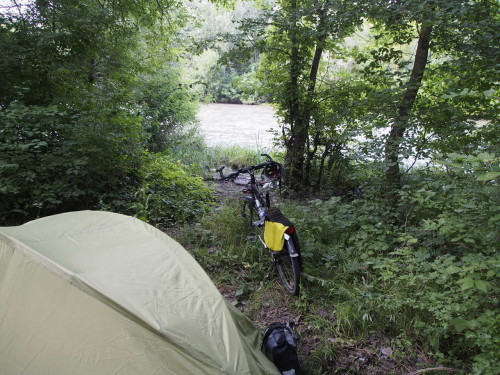 Camping next to Tundzha river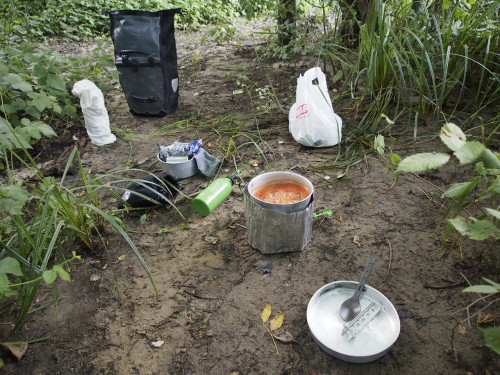 Cooking dinner
The next morning I cycled the last 30km to the border and crossed into Turkey. The border is quite different from the numerous ones I crossed so far within the Schengen area in so far as I had to show my passport 7 times at different stations (and got the first stamp of this trip). But still all that went rather smooth and fast. There was a queue of 2km of trucks waiting but the separate line for passenger vehicles was almost empty.
It only took a few more kms after the border until I got an invitation for tea. I met Fathi who was taking his brand new bicycle for a ride and he invited me to join him at his place in the next village for tea. Tea turned out to be lunch with all kinds of tasty food. And not only was he planning to do longer cycling tours with his new bike, he also has a background in software development like me so we also ended up discussing the project he is working on.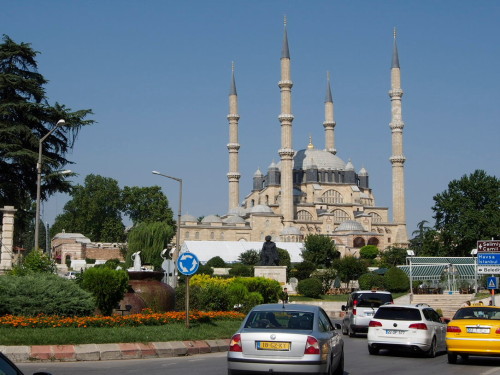 Arriving in Edirne
Selling melons directly from the truck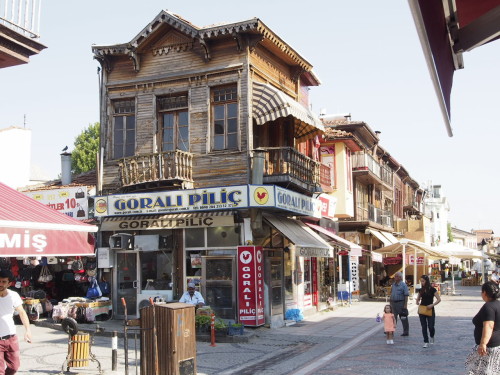 From here I won't take the direct route to Istanbul but instead go south, cross the Dardanelles and then take a ferry from Bandirma which is across the Sea of Marmara into Istanbul. That's an extra 3 or 4 days of cycling but it promises to be a nice area to go and the ferry will get me directly to the center so I can avoid a lot to the crazy traffic in Istanbul. Thanks to Joe for suggesting this route.