Getting closer to my final destination I'm taking a few detours to get off the main roads and see some nice places. People here are often exceptionally friendly and hospitable. Not only was I invited to stay at several really nice places (Warm Showers makes finding hosts easy), on some occasions I did not have to pay for coffee and food after telling people about my trip.
I met another cyclist with an impressive track record today, Nicolas cycled here from China. He carries a lot of photo gear (and I thought my bike was heavy) and really knows how to use it. Here is his photography website.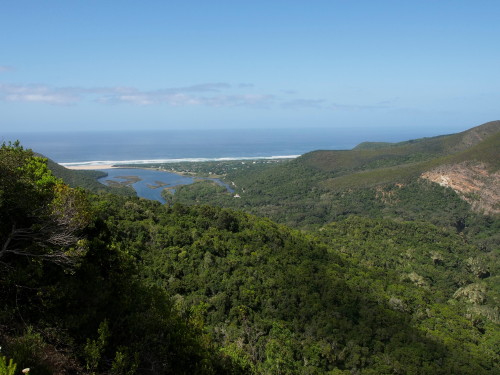 Looking down into "Natures Valley" from the top.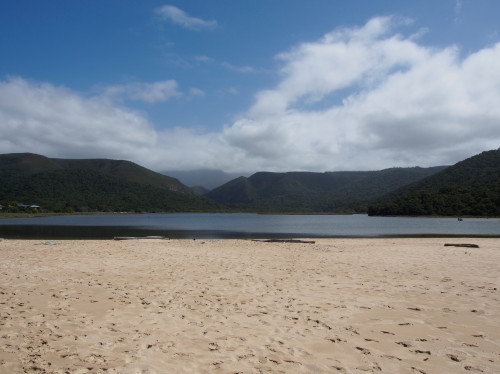 Standing on the beach that separates the small lagoon from the sea.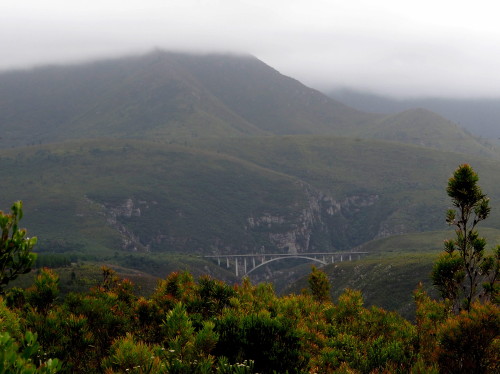 It's a short but steep climb back up. This is the bridge that lets you avoid all that – but who would want to go on the highway instead of this? Well, I did the day before when it was raining heavily but I was glad to get off to see Natures Valley. Here the tops of the mountains are disappearing in the clouds again. Funny thing when you leave the highway, you have to pass a toll booth. Bicycles are not even on their price list but they insisted I had to be able to lift the thing to get through for free. Not sure if they just played a prank on me but as they were satisfied after I just lifted it up for a second I did not argue. Carrying the loaded bike for more than a meter would hardly have been possible.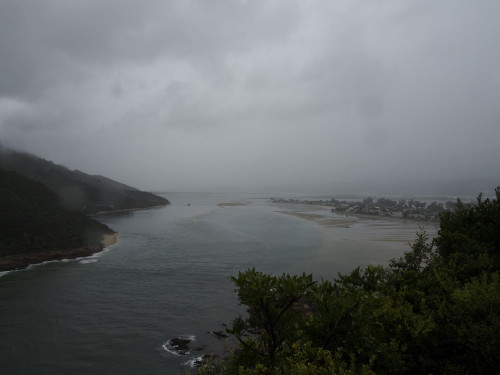 Arriving in Knysna, quite an impressive location. The town is on and around an Island in a lagoon surrounded by mountains.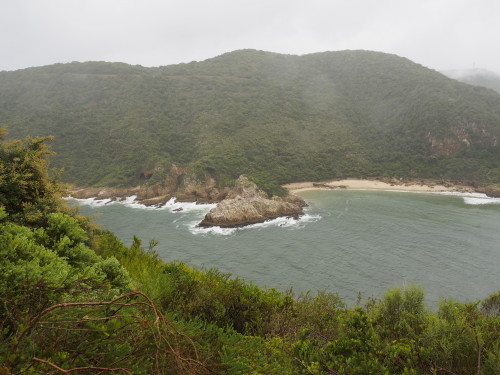 It was raining again when Peter, my host in Knysna took me up there to see the whole place. Still and impressive view though…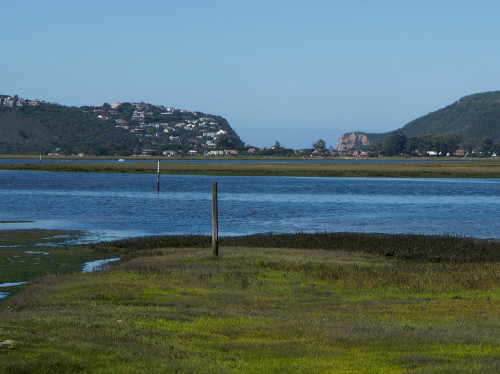 …and the weather was much nicer the next day when I continued cycling.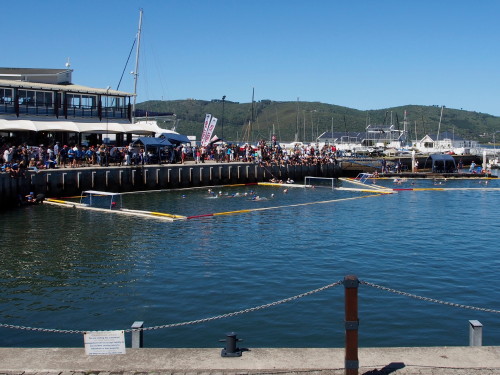 There was even a water polo game in the harbor when I came through.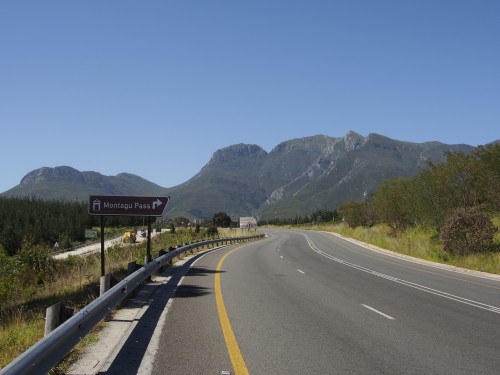 After leaving the shore it's up into the Outeniqua Mountains.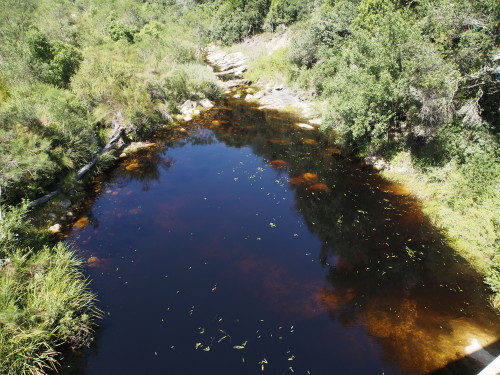 Like in the Tsitsikamma Mountains the water is brown from dissolved tannins in most rivers.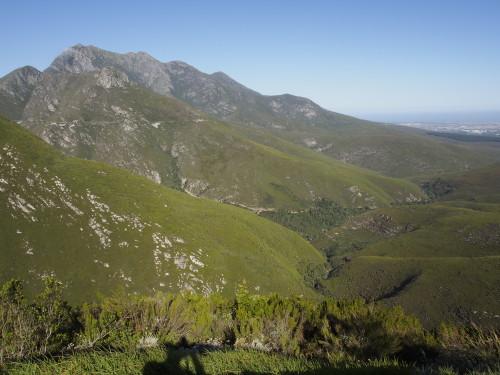 The mountains are all green here…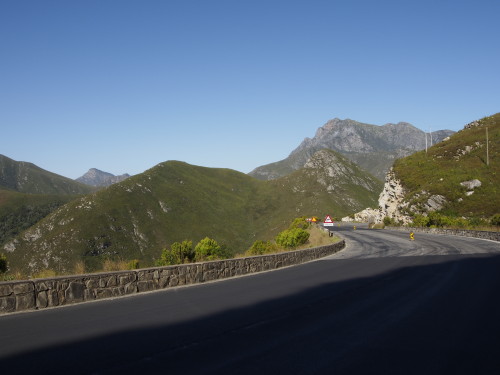 … until you get over the top …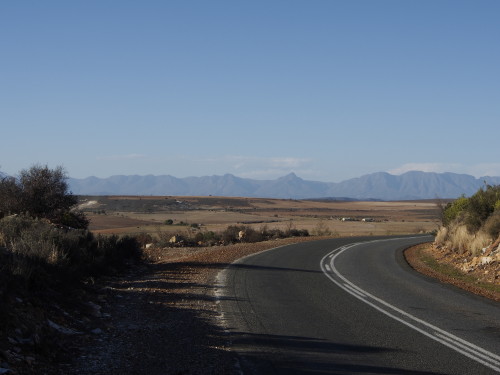 … and suddenly the landscape is all brown.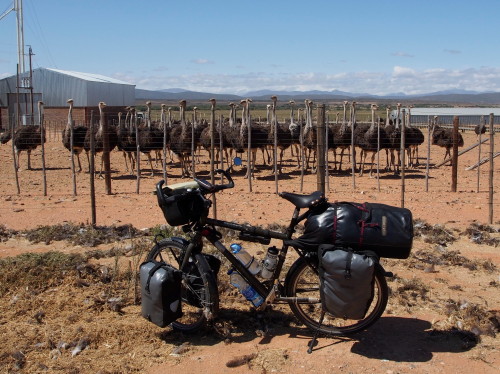 The area here is famous for ostrich farms.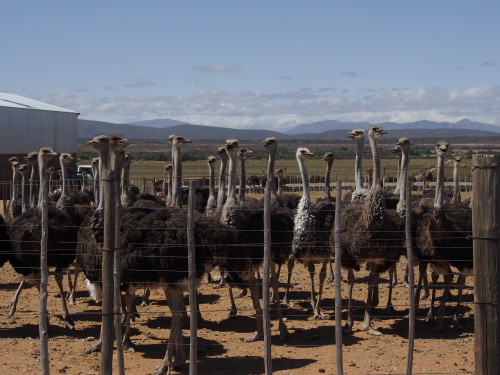 And they can get quite curious when you take a break near their fence.