I've arrived in Kampala, the capital of Uganda on Tuesday night. So I'm finally on the continent I was planning to cycle in the first place.
The center of the town has changed a lot, even since I've been here the last time (about 1 ½ years ago), it took me a while to get oriented around Kampala Road again.
There was a problem with the bike I had stored in the hostel in Istanbul: it was already packed up in a box ready to go on a plane when I left for India. But when I wanted to collect it to get on the next flight to Uganda I found the lower part completely soaked, it had gotten wet somehow. Luckily I was able to find one open bike store (that was on Sunday) and get another box. But the main problem is that the leather saddle of my bike also got wet and looked pretty bad. I tried to dry it as well as possible over the last few days and will now attempt to save it by treating it with lots of grease. Otherwise reassembly went fine and as far as I can tell for now there is no other damage.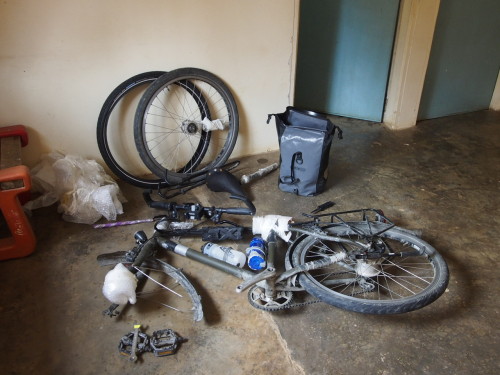 Here's the bike after unpacking…
… and fully assembled again.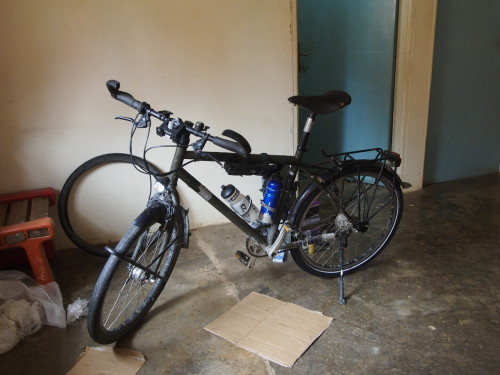 I'm a bit concerned about the weather. It is unusually wet for this time of the year (the small rainy season is normally in October/November) but it has been raining heavily every afternoon since I've arrived here. Yesterday there even was a really bad hailstorm that took out power till afternoon the next day.
The first cycling I'm going to do here will be to Hoima in the west near the Congolese border where I spent most of the year 2004 when I was working there. As all major roads in Uganda run in a star like pattern with Kampala in the center I'll probably come back here again before going south to Tanzania.
At this time I don't expect to be able to keep going on my originally planned route to the west coast of Africa, though. With the terrible Ebola situation getting even worse all the time it's unlikely I'll go in that area. Plan B: get all the way south to South Africa and fly back from there.