After spending a day in Constanța I continued south to Vama Veche yesterday.
I was expecting a relaxed ride of only 50km and it would have been had I stayed on the big road. But 10km after leaving Constanța I was both bored by the dull surroundings (I had imagined some nice views when going along the coast but you don't see anything from the road) and intimidated by the heavy traffic so I decided to try some smaller roads. But those soon turned out to be smaller than I had expected from looking at the map and I had to take another detour of 20km when I found out that one of them had been turned into a giant mud bath by all the recent rain.
Well, that's not a big deal if you notice that road condition right away, it's more annoying if the road starts out with a decent tarmac surface and then turns into a barely passable dirt track some kms later. I had a fair share of knee-deep water and slippery mud to cross, the worst 5km took me over 45 minutes to get through. A farmer I met there seemed to think I must have been lost and was very eager to give me proper directions how to get out of there but knowing that I was not that terribly far from my goal I was actually enjoying that part of the ride a lot.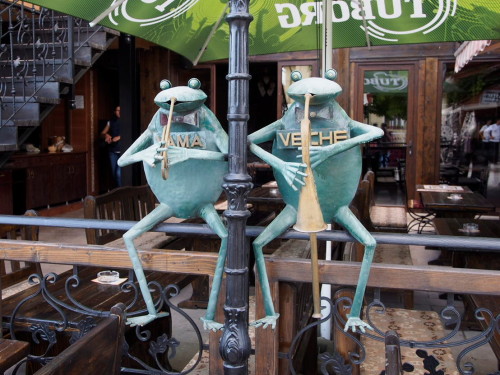 Vama Veche where I am now is the last Romanian town just before the border to Bulgaria. It has a nice sand beach, lots of restaurants, bars, hotels and campsites. But despite being an obviously popular tourist destination prices are surprisingly low. I'll stay here a bit…