I've arrived in Tanzania yesterday and in Bukoba on the shore of Lake Victoria today.
The border crossing in Mutukula went really smooth, I did not even have to fill out forms like all the previous times I've been here. Maybe it's a good idea to come on a Sunday. And it definitely helped to be on a bicycle, all the immigration officers were very helpful and interested in my travel plans.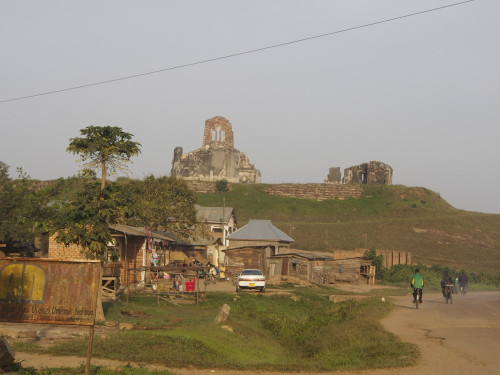 I spend the first night in Tanzania in Kyaka. This is an old church that has been destroyed during the war between Tanzania and Uganda. I understand it is left like this as a monument to commemorate that war.
The landscape changes right before the border, it's much flatter (with the notable exception of a really mean climb just before Bukoba). But the main difference is the number of people living here. Villages are smaller and further between than in Uganda.
I'm in Bukoba now and I'm going to stay here for a while. First because I really like this place and want to spend some time meeting friends from previous visits. And I also want to brush up on my Swahili skills. While It's OK to get around Uganda with English only that is much more difficult here in Tanzania. So I've arranged for a teacher and will get some language lessons over the next few days.